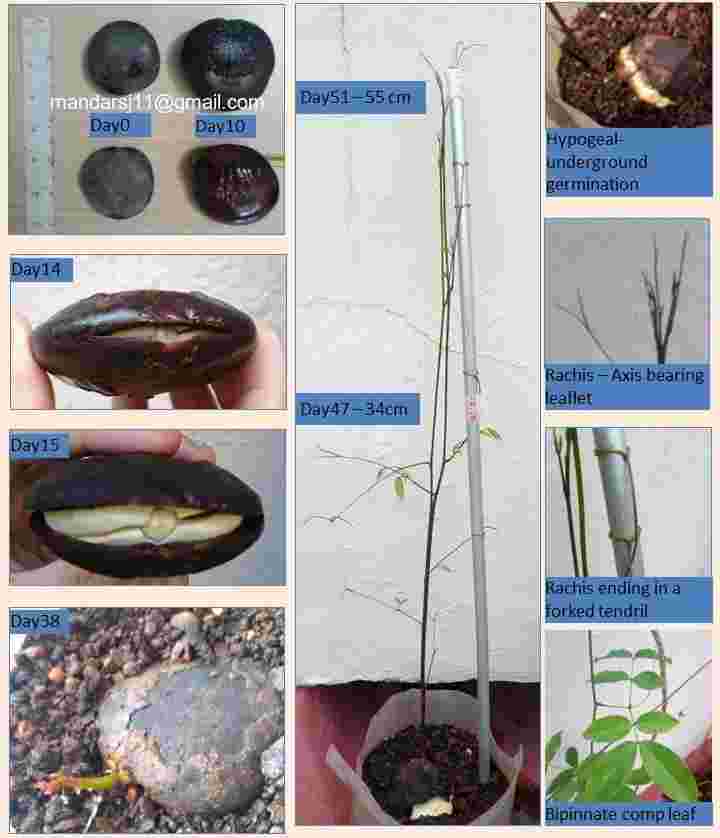 Family: Mimosaceae
Common Name: गारबी
Etymology - Genus: A Malabar name used by van Rheede for the genus of giant seeds that float across the Atlantic Ocean to wash up on the shores of northwest Europe.
Etymology - Species: After name of Hendrik van Rheede.
Ecosystem: Deciduous
Origin: Native
Location: Phansad forest
Description: Huge woody unarmed liana, spreads massively along and above forest canopy. Girth can become a foot in diameter.Bipinnately compound leaf with 1-2 pinna.Paripinnate leaflets. Main spine of the leaf (rachis) ending in a forked tendril, which holds tightly around the support.Long tail like, yellow, catkin inflorescence with pleasant smell.Pods are huge, can grow up to 5-6 feet long. Each seed is arranged into a segment.Seed is very well protected inside a very hard cover. Various germination stages are documented in a profile picture attached.